I realize many of you reading this might not understand the countdown. To fill you in my husband and I are moving cross country. Well, I have already moved. He is still in CA and we move into our new home on the 30th. He is now leaving CA on the 25th, arriving on the 29th. T-25 is how many days till we get the keys to our new home. It could be shorter than that depending on the sellers, but right now I'm not getting my hopes up and going with the original agreed upon date. That being said the anticipation is almost too much for me to bear. I find myself whirling throughout the day (and night) thinking/dreaming about being in our new home and making it ours. We have talked about this for so long and now it's happening.
Along with my husband, we have two cats (Hooters and Dumpster) and two mares (Cheyenne and Dolly). The cats will be traveling with the husband and the horses actually are scheduled to arrive this Sunday. I've never shipped horses this far before, so the stress and nerves are really starting to kick in. They leave CA on Friday and you can bet I will be a bundle of nerves the entire trip.
I posted a pic of me and the hubby in my profile. I know it's nice to put a face to a name/blog.
I finished up the small bag I was working on last night. The plan was not to put a liner in but after I finished I decided it needed one. So once the dust settles from the girls arriving I will take care of that. I didn't take pics of it. I will when I finish. So in the interim I started a beanie for my cousin. He's 8. So far, so good. I started it over only once and now I feel like I've really got a good pattern and shape going with this one. The funny thing is I've only used two stitches and I honestly think I can repeat it. A first for me! I'll take a pic of it this evening when it's all finished for you gals to check out. Maybe you can give me some advice on what I am doing wrong and how I can improve my beanies. I am having such a hard time with them!!
In the meantime here is a pic of a blanket I did awhile back for a friend. Her daughter loves the LA Lakers and that's what inpired the colors.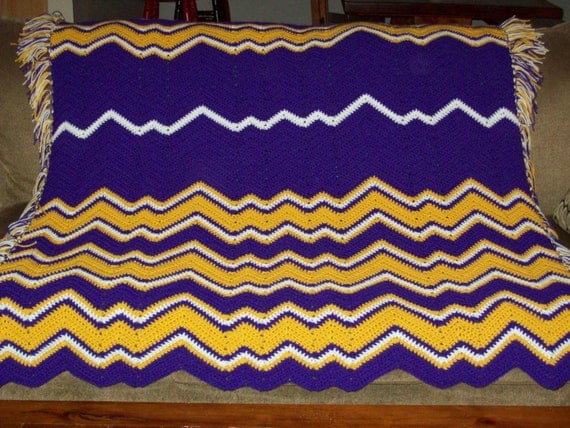 SONG OF THE BLOG:
"I Got Over You" by DAUGHTRY. One of my favs.